Enthusiastic tappers from around Ireland were delighted to welcome Brad Yates, the EFT Wizard, to Dublin and Cork in July 2011.
Brad brought us his popular workshop "Success Beyond Belief", which focuses on removing blocks and limiting beliefs standing in the way of achieving success.
Over 70 people attended the fast-paced, two hour workshop in Cork and we all enjoyed Brad's enthusiasm and passion for EFT and felt our blocks shifting very quickly as we tapped along with him!
Covering the basics of EFT (Emotional Freedom Techniques) first to make sure we were all on the same page, Brad swiftly moved into helping us define what success meant to us personally.
In this very interactive workshop, members of the audience were asked to share what reservations or blocks came up for them when thinking about their success goal.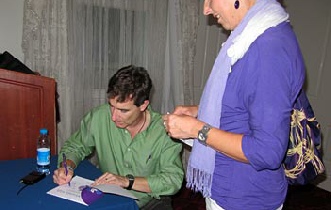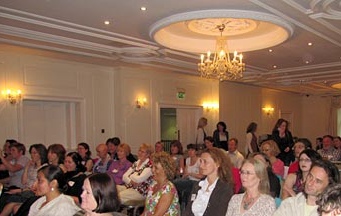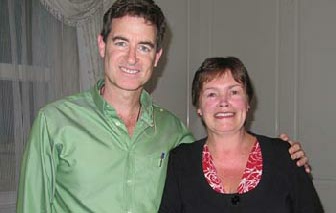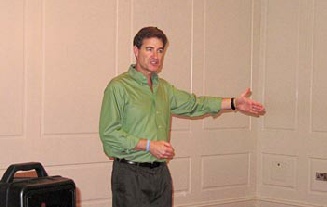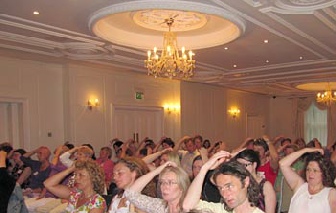 Brad patiently posed for photos and here he is with Helen Ryle, EFT Advanced Practitioner and Certified EFT Trainer, from Tralee, Co Kerry. Helen has written this photo report.
We have asked Brad if he will come back to Ireland in the near future to present a longer workshop, perhaps a weekend training, and he has assured us that he intends to do so. We're really looking forward to that!
Visit Brad Yates's Website
to learn more about his EFT audios, videos and books.
Then Brad skilfully used the audience's reasons why they shouldn't experience success to construct EFT phrases and rounds of group tapping which got to the root of what was holding us back.
We were also treated to one of Brad's guided imagery sessions, in which we visualised and experienced achieving our success and this process really solidified our success goals in our minds. The two hours really flew by!
After the workshop Brad happily signed copies of his popular children's book "The Wizard's Wish".
The book is a wonderful way to introduce children of all ages to the benefits of tapping away bad feelings and worries through the use of EFT.
It's written so that parents can read the story to younger children and they can all practice tapping together, or older children can read it by themselves and learn EFT as they enjoy the engrossing story.
Please visit EFT Ireland to learn more about EFT (Emotional Freedom Techniques, better known as tapping). Group training classes to learn EFT are held regularly throughout the year in County Kerry, and one to one private consultations are also available at the New Horizons Clinic, Tralee, Co. Kerry in Ireland.


Association for the Advancement of Meridian Energy Therapies
The Association for Meridian Therapies


Click here for a 10 minute audio clip from the beginning of Brad's workshop.