Enthusiastic EFT tappers from around Ireland were delighted to welcome back Brad Yates, the EFT Wizard, to Rochestown Park Hotel in Cork, Ireland from October 11-13, 2013.
This time Brad brought us his full workshop "Success Beyond Belief", which focused on removing blocks and limiting beliefs standing in the way of achieving success in all areas of life.
Brad presented his fast-paced, two hour group workshop on the Friday evening and we all enjoyed Brad's enthusiasm and passion for EFT and felt our blocks shifting very quickly as we tapped along with him!
Brad first helped us define what success meant to us personally in areas such as health, business, finance etc and explained his Michaelangelo Process.
The Michaelangelo Process presents the analogy of a sculptor working with a piece of marble, gradually removing the stone (our blocks and disruptions) to reveal the magnificence of the statue within (our true self).
We were kept tapping throughout the whole weekend, dissolving any psychological reversal or subconscious resistance to making changes.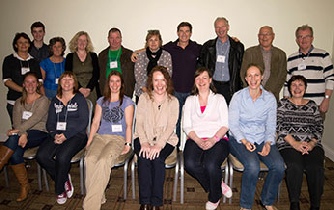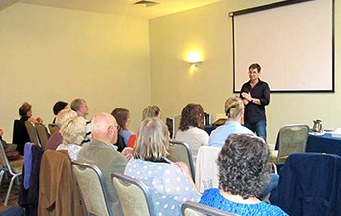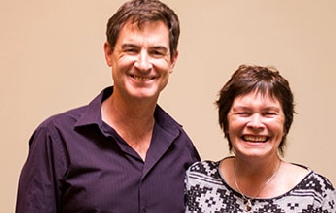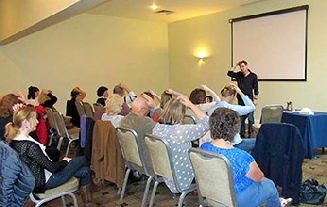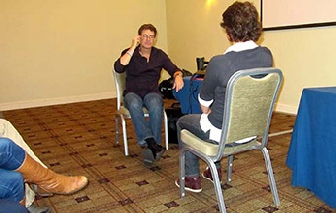 Brad also invited participants to join him for individual tapping rounds for specific issues and the whole group tapped along, borrowing benefits for themselves.
We were also treated to some of Brad's guided imagery sessions, in which we visualised and experienced achieving our success and this process helped to solidify our success goals in our minds.
The whole weekend really flew by and Brad's last tapping rounds helped us to solidify the progress we had made and feel confident of carrying that success into the future.
Go raibh maith agat (many thanks), Brad!
Brad patiently posed for photos and here he is with the Cork workshop participants. Click on the photo for a larger version. Here's Brad enjoying a laugh with Helen Ryle, EFT Trainer, from Tralee, Co Kerry. Helen has written this photo report.
Please visit EFT Ireland to learn more about EFT (Emotional Freedom Techniques, better known as tapping). Group training workshops to learn EFT are held regularly throughout the year in County Kerry, and one to one private consultations are also available at the New Horizons Clinic, Tralee, Co. Kerry in Ireland.

The Association for Meridian Therapies

Association for the Advancement of Meridian Energy Therapies






Brad Yates - Success Beyond Belief EFT Workshop - Cork, Ireland, 2013